Build a golf package now: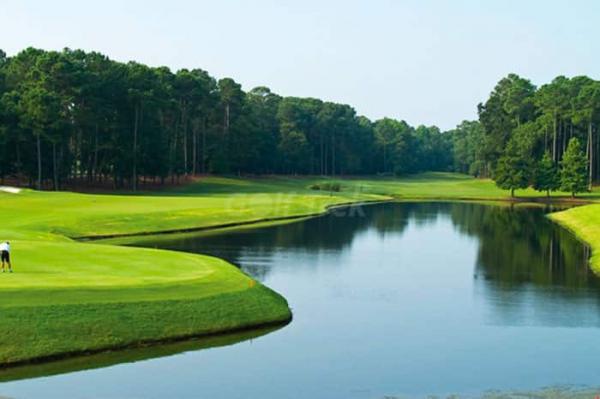 About Indigo Creek Golf Club (Murrells Inlet, SC)
Built on an old plantation site, Indigo Creek Golf Course features undulating greens, waste bunkers, marshes and surprisingly high elevation in a setting of flowing creeks and giant oaks.
Designed by golf course architect Willard Byrd, the course is relatively short at 6,747 yards and tight. It's a course that rewards good shots and punishes bad. Slopes give a forward push to long and well-placed drives and challenging doglegs once mastered are sure stroke savers from then on. But for shots less well plaid, there are bunkers lying in wait, slopes that funnel your ball into the water, and OB stakes come in close.
The course features a number of doglegs, including a sharp dogleg on No. 12 that crosses Indigo Creek twice. And while you might be tempted to pull your driver out on the doglegs, you might want to give it a second thought. While an accurate drive might leave you with an easy pitch to the green, too much power and you're in a deep bunker or the trees never to be seen again. The course can also fool golfers into thinking there is more green than there really is, with wide fringes around the green that from a distance blends in with the green. The course has a clubhouse with pro shop, practice range and grill.
Reviews
Have you stayed here recently?
Share your experience with our golf community.
Course was in very bad shape and had no beverage...
Course was in very bad shape and had no beverage or food services offered
Published on 2021-04-28 07:42:51
Nearby Accomodations
Nearby Golf Courses